ICOS [CD278] – ICOSL [CD275] Pathway
---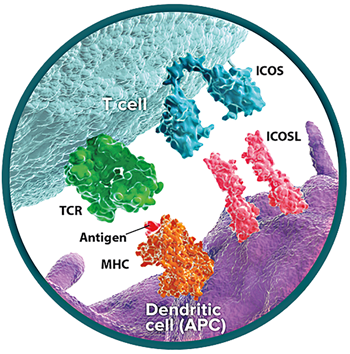 Inducible T cell co-stimulator (ICOS; CD278) is an activating receptor expressed on the surface of activated cytotoxic T cells, regulatory T cells (Tregs), NK cells and other types of T cells, having a distinct and opposing function than CTLA-4. The ligand ICOSL (B7-H2; CD275) is expressed on antigen-presenting cells (APCs) such as dendritic cells (DCs) and macrophages. ICOS/ICOSL signaling leads to the activation, proliferation and survival of cytotoxic T cells, as well as the survival of memory T cells. Recently, it has been shown that ICOS expression could be a useful predictive biomarker of response to checkpoint inhibitor treatments (e.g through the CTLA-4 axis).
LIT: ICOS Co-Stimulation: Friend or Foe? D.J. Wikenheiser & J.S. Stumhofer; Front. Immunol. 7, 304 (2016) • Inducible Co-Stimulator (ICOS) as a potential therapeutic target for anti-cancer therapy: F. Amatore, et al.; Expert Opin. Ther. Targets 22, 343 (2018)
---
The ICOSL (B7-H2/CD275) (human) ELISA Kit (Prod. No. AG-45B-0017) is a sandwich ELISA for specific quantitative determination of soluble human ICOSL [B7-H2/CD275] in serum, plasma and cell culture supernatants. This ELISA Kit shows a very high specificity and sensitivity (55pg/ml).


---
Biologically Active

ICOS and ICOSL Proteins
---
VALIDATED

Antibodies for ICOS and ICOSL Research
---


Select Your Pathway of Interest & Discover High Quality Reagents
---