---


BioActs - Fluorescent Dyes & Probes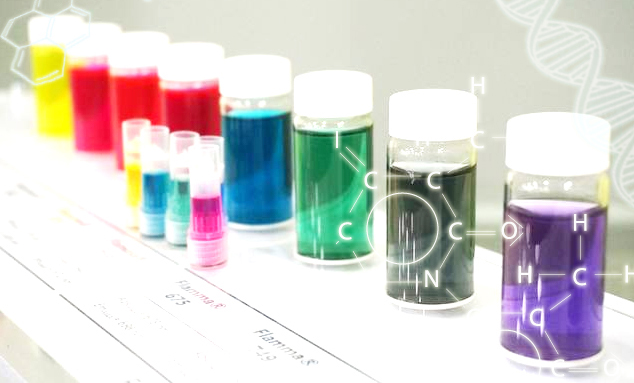 BioActs develops and manufactures high-sensitivity, high-purity and high-quality new proprietary and classical bio-fluorescent probes, such as fluorescent dyes, optical materials for in vitro diagnostic products, near-infrared (NIR) materials and contrast agents for in vivo research. BioActs products are already extensively utilized as optical materials and probes in worldwide universities, research institutes and enterprises for basic and applied research in the fields of medical, pharmaceuticals and chemistry research.
Their fields of expertise include a broad range of biochemical labeling dyes (including Flamma® Fluor dyes or FSD Fluor™ dyes), cell analysis dyes (e.g. CytoFlamma® or MitoFlamma®), in vivo imaging dyes (e.g. NpFlamma®, NIR dyes or Bioluminescence dyes) or conjugated secondary antibodies. In addition, BioActs has a broad panel of nucleic acid labeling dyes, nanoparticles and beads and offers a full range of custom labeling services.
AdipoGen Life Sciences provides the complete BioActs product range on a worldwide basis (excluding South Korea and Japan). The delivery time for BioActs products is approximately 3 weeks. Please contact us if you request further information.
For Product Inquiries: info@adipogen.com
---
NEW Fluorescent FSD™ Fluor Dyes
The FSD™ Fluor series is a new panel of proprietary fluorescent dyes with excellent fluorescence intensity and high quantum yield compared to conventional fluorescent dyes. The fluorescence intensity is also excellent after binding with biomolecule targets (antibodies, peptides, proteins, etc.). The FSD™ Fluor series has a wide spectrum of use and is applicable with most fluorescence equipment and for a broad range of application studies. In addition it is possible to select from a variety of reactive groups.

- Unparalleled Fluorescence Performance
- Highest Quantum Yields
- Wide Range of Reactive Groups

---
---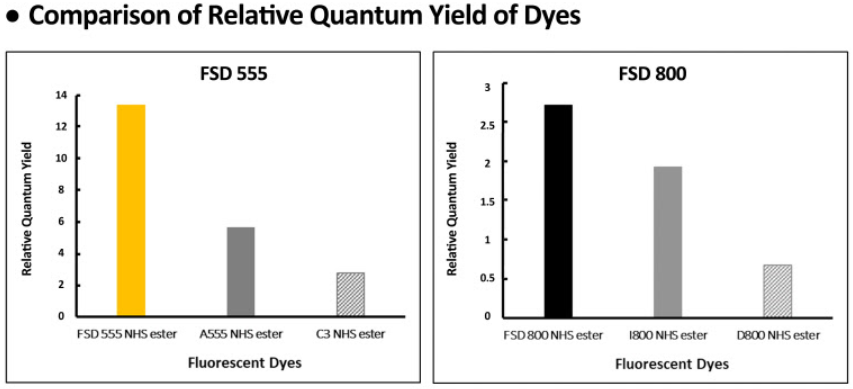 ---
Flamma® Fluor Dyes
The Flamma® Fluor series is a panel of proprietary fluorescent dyes with brighter fluorescence performance than conventional dyes and with a broad coverage of the whole spectra from UV to NIR. It is applicable with most fluorescence equipment and for a broad range of application studies. In addition it is possible to select from a variety of reactive groups. The Flamma® Fluors are a perfect alternative and ideal for the replacement of Alexa Fluors, ATTO Dyes, DyLight Dyes, as well as other classical dyes.

- Full Spectrum of Fluoresence from UV to NIR
- High Purity and Bright Fluorescence Performance
- Wide Range of Reactive Groups

---
---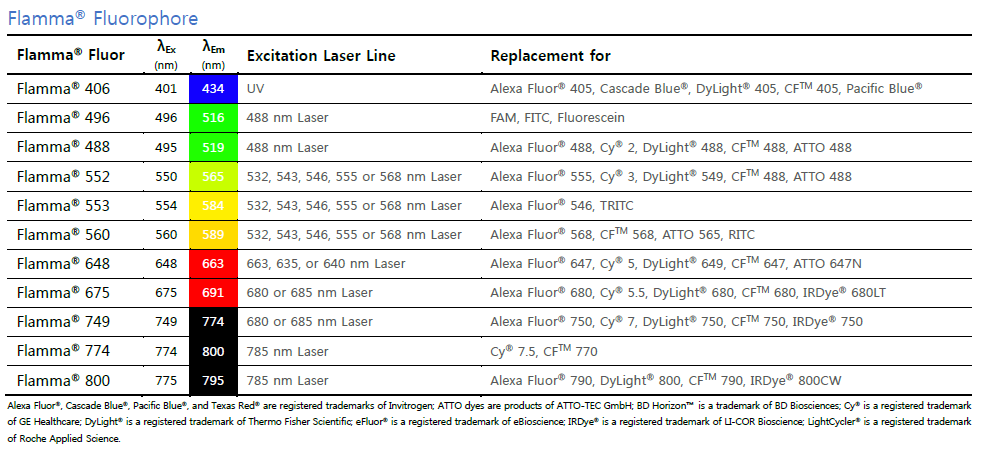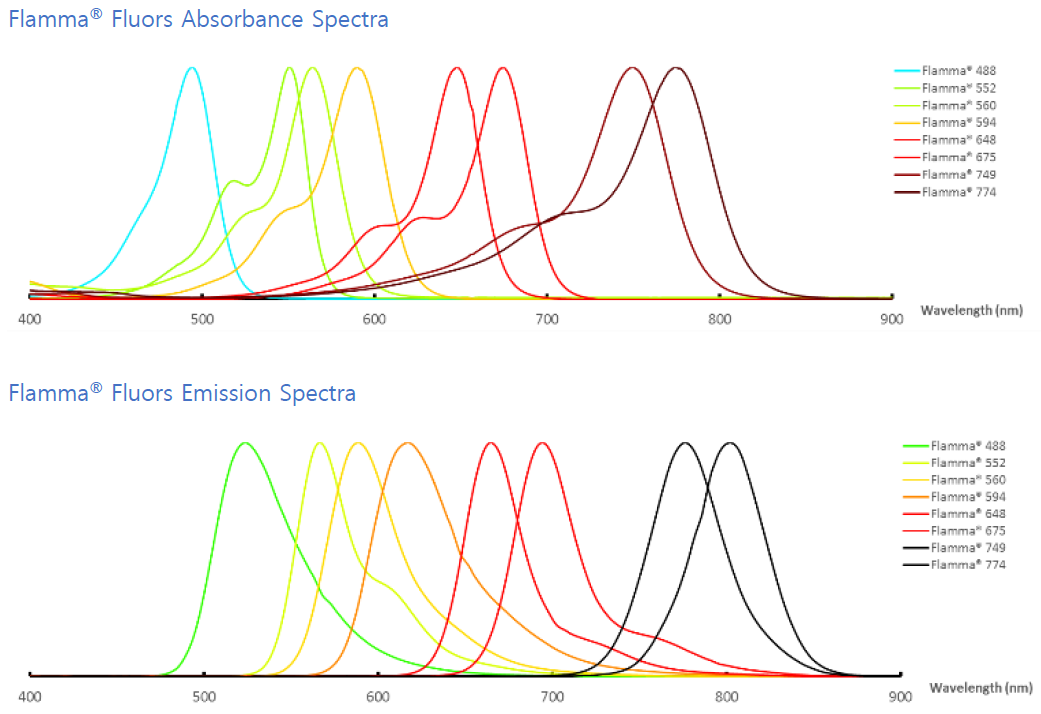 ---
Cell Analysis Tools
A variety of cell studies including organelle detection and studies on function and proliferation of cells can be done using BioActs' bright fluorescent probes and fluorescent antibodies. Since organelles have their own unique features, organelle-specific image tracking and analysis are very important research tools in cell biology. BioActs' fluorescent probes for cell analysis purposes can be applied for live cell imaging, as well as fluorescent microscopy and flow cytometry.

CytoFlamma® Cell Membrane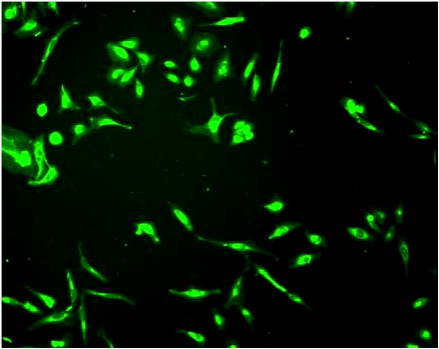 CytoFlamma® Fluors are hydrophobic dyes that can be used for cell membrane labeling by directly penetrating into cell membranes. Because of its low cytotoxicity and ability to penetrate into cell membranes.

---
MitoFlamma™ Green

MitoFlamma™ Green is a green fluorescence probe specifically staining mitochondria of cells. By marking mitochondria of live cells, it can be used to trace cell mutations from drug or external stimuli. It can also be used for multi-imaging staining of fixed mitochondria. This probe can be applied for fluorescence microscopy or flow cytometry and analysis based on microplates.


FIGURE: MitoFlamma™ Green/HeLa cell staining

---
Check out our Annexin V Flamma® Apoptosis Detection Kits or our Flamma® TUNEL Assays.
---

Excellent Labeled Secondary Antibodies
BioActs' fluorescent secondary antibodies provide best results in fluorescence microscopy, confocal laser scanning microscope (CLSM), flow cytometry or western blot. BioActs' HRP secondary antibodies show ultimate performance in all areas of chemiluminescent detection systems as well.

---
In Vivo Imaging Tools
In vivo optical imaging is a method to monitor biologically useful information by visualizing small animals in real time and it is used in the preclinical stage of research such as drug development, cancer cells detection and treatment reaction monitoring. Fluorescent technology is nonradioactive, has long half-life, facilitates the use of multiple channels and the structure of its related equipment and devices are simpler than radioactive equipment. Due to these attributes, research on applying fluorescence techniques to in vivo imaging area is actively progressing in recent years.
Near-infrared (NIR) fluorescent dyes provided by BioActs have a wavelength range of 700~900nm, are free from noises caused by autofluorescence of biological substances and are used as effective imaging agents in in vivo optical imaging due to their long wavelength.

NpFlamma® HGC Series

NpFlamma®HGC are near-infrared (NIR) fluorescent contrast agents developed based on chitosan nanoparticles. Since chitosan, a main component of the NpFlamma®HGC agents series is a biologically-derived material, it is free from toxicity problems and has advantages such as long half-life, light stability and water solubility.

---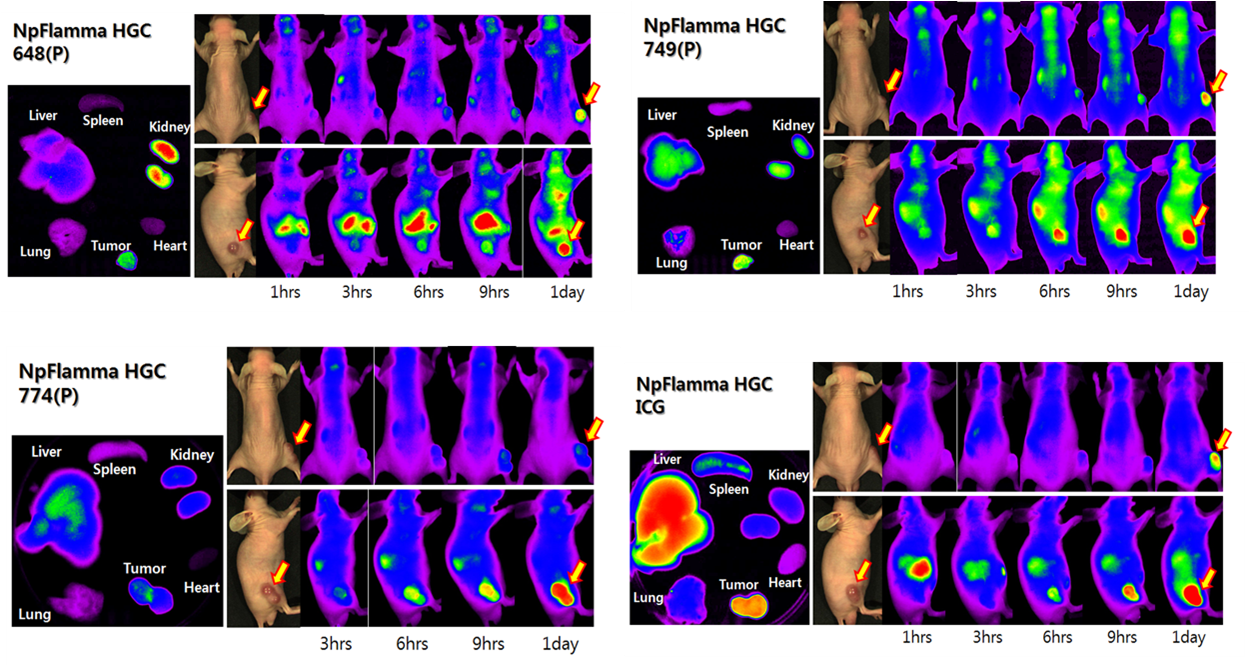 FIGURE: Effective tumor imaging using NpFlamma® HGC dyes.

---
Also available: NpFlamma® MMP Series or NpFlamma® ROS.
---
Labeling Service
BioActs offers a broad labeling service with its proprietary dyes. Contact us for Labeling Services on Antibodies, Proteins or Nucleotides with BioActs proprietary dyes at info@adipogen.com!
---