---


The Source for Basic Research Tools necessary for Advancing Human and Animal Health
Cayman Chemical is "helping make research possible" by supplying scientists worldwide with biochemical tools in research disciplines such as cancer, nitric oxide, neuroscience, apoptosis, oxidative injury, endocrinology, atherosclerosis, inflammation, epigenetics and much more. Cayman Chemical is specialized in assay kits for the measurement of eicosanoids, free radical biomarkers, metabolism biomarkers, cyclic nucleotides, cytokines, hormones and nitric oxide. In addition, Cayman Chemical offers a broad range of quality biochemicals including prostaglandins, leukotrienes, nitric oxide reagents, signal transduction reagents, endocannabinoids and a variety of related lipids, fatty acids, enzymes and antibodies.
On our website, we display a selection of Cayman Chemical Innate Immunity Products, including the cGAS & STING product lines. For all other Cayman Chemical products, we refer to Cayman Chemical's website or you can download the price list just below.
In addition, we also offer all products from Matreya, LLC (acquired by Cayman Chemical) which is an expert in sphingolipids, glycosphingolipids, gangliosides, globotriaosylceramides, fatty acids and sterols. AdipoGen Life Sciences provides all Matreya Reagents on our website with the starting abbreviation "CAYM-". Please contact us if you request further information.
Download here: Product & Pricelist (2023)
---
Featured Products from Cayman Chemical
---
Cyclic Dinucleotides (CDNs) - Ubiquitous Cellular Messengers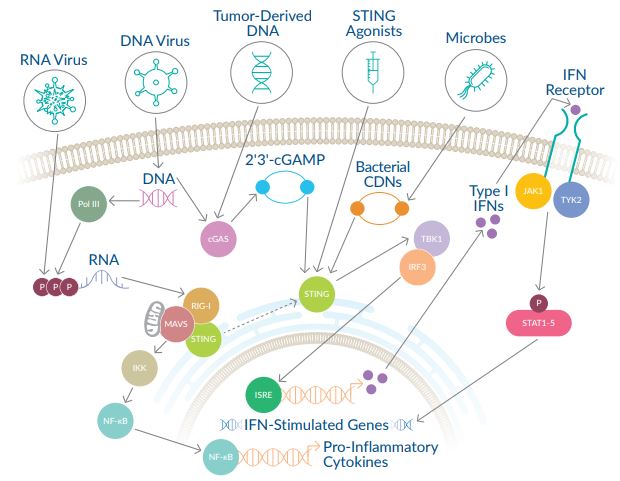 Innate immunity is a key pathway activated in response to bacterial and viral infections. The invasion of foreign nucleic acids results in the production of interferons and cytokines that comprise the host defense. More recently, roles for innate immunity in tumorigenesis, autoimmune disease, and senescence also have been elucidated. In these diseases, it is 'self' nucleic acids, RNA and DNA, which escape into the cytosol and trigger immune responses. Cyclic GMP-AMP synthase (cGAS) and stimulator of interferon genes (STING) are the key sensors of nucleic acids in the immunity pathway.
Dysregulation of the cyclic GMP-AMP (cGAMP) synthase (cGAS) pathway leads to chronic inflammation, autoimmune disorders, and even tumorigenesis; therefore, cGAS modulators are of particular interest in searching for novel ways to treat these diseases. Learn more about Cayman's novel cGAS Inhibitor Screening Assay Kit that directly measures the product of the cGAS reaction, cGAMP.
Cayman Chemical has also developed immunoassays for specific detection of 2'3'-cGAMP, cyclic di-GMP, and cyclic di-AMP. These immunoassays enable sensitive, accurate quantification of CDN levels in mammalian and bacterial cell lysates using a colorimetric 96-well microtiter plate format.
cGAS Inhibitor Screening Assay Kit (#CAY-5701930)
Download Kit Booklet
cGAS TR-FRET Inhibitor Screening Assay Kit (#CAY-702120)
Download Kit Booklet
2'3'-cGAMP ELISA Kit (#CAY-501700)
Download Kit Booklet
3'3'-cGAMP ELISA Kit (#CAY-502130)
Download Kit Booklet
Cyclic di-GMP ELISA Kit (#CAY-501780)
Download Kit Booklet
Cyclic di-AMP ELISA Kit (#CAY-501960)
Download Kit Booklet
---
Leukotriene ELISA Kits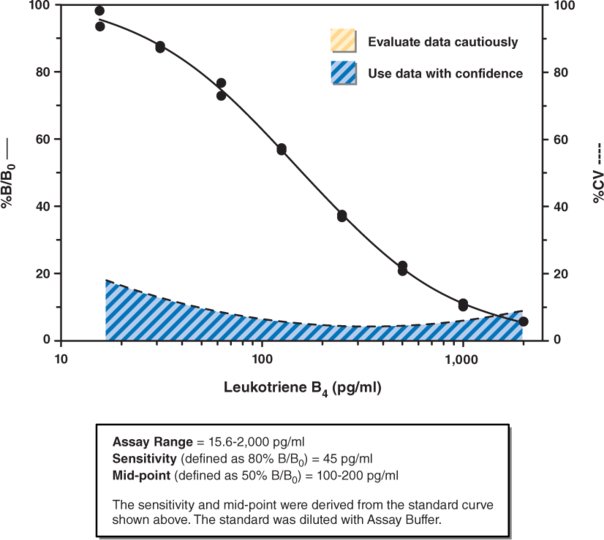 Lipid mediators, which denote bioactive mediators derived from lipids, play roles in immune regulation, self-defense, and the maintenance of homeostasis in living systems. They include prostaglandins (PGs) and leukotrienes (LTs), lysophospholipids (including sphingosine 1-phosphate), and endocannabinoids. Leukotrienes, which are derived from arachidonic acid (AA) through two steps catalyzed by 5-lipoxygenase (5-LO), are inflammatory mediators that function in normal host defense and play roles in inflammatory diseases. They exert their biological effects by binding to G-protein-coupled receptors (GPCRs). Different LT receptor subtypes exhibit unique functions and expression patterns. LT receptors BLT1 and BLT2 are activated by leukotriene B4 (LTB4), whereas CysLT1 and CysLT2 receptors are activated by cysteinyl LTs (CysLTs). LTs are involved in various inflammatory diseases, including asthma, allergic rhinitis (AR), atopic dermatitis (AD), allergic conjunctivitis, rheumatoid arthritis, anaphylaxis, chronic obstructive pulmonary disease (COPD), obliterative bronchiolitis after lung transplantation, and interstitial lung diseases.
Cayman Chemical is a pioneer in Leukotriene Research and offers a broad panel of high-quality leukotriene ELISA Kits.
Leukotriene B4 ELISA Kit (#CAY-502390) or Express Variant (#CAY-10009292)
Download Kit Booklet
Leukotriene C4 ELISA Kit (#CAY-501070)
Download Kit Booklet
Leukotriene E4 ELISA Kit (#CAY-501060)
Download Kit Booklet
Cysteinyl Leukotriene ELISA Kit (#CAY-500390) or Express Variant (#CAY-10009291)
Download Kit Booklet
---
New Catalogs and Brochures from Cayman Chemical
---
| | | | | | | |
| --- | --- | --- | --- | --- | --- | --- |
| | | | | | | |
| Antiviral Research | | Bacterial Signaling | | Epigenetic Research Tools | | Lysosomal Storage Diseases |
| | | | | | | |
| | | | | | | |
| Neuroscience | | Fatty Liver Diseases | | Ferroptosis | | Innate Immune Signaling |
| | | | | | | |
| | | | | | | |
| Epigenetics | | Neutrophil Biology | | Bioenergetics | | Dietary Fatty Acids |
| | | | | | | |
| | | | | | | |
| Oxidative and Nitrosative Stress | | Receptor Signaling | | Cardiovascular Disease | | Assay Kits |


Please download the PDFs or contact us at info@adipogen.com to receive a copy.


---
---