Adipogen Life Sciences, Inc.
---


Advanced Inflammation, Immune Response & Immunometabolic Research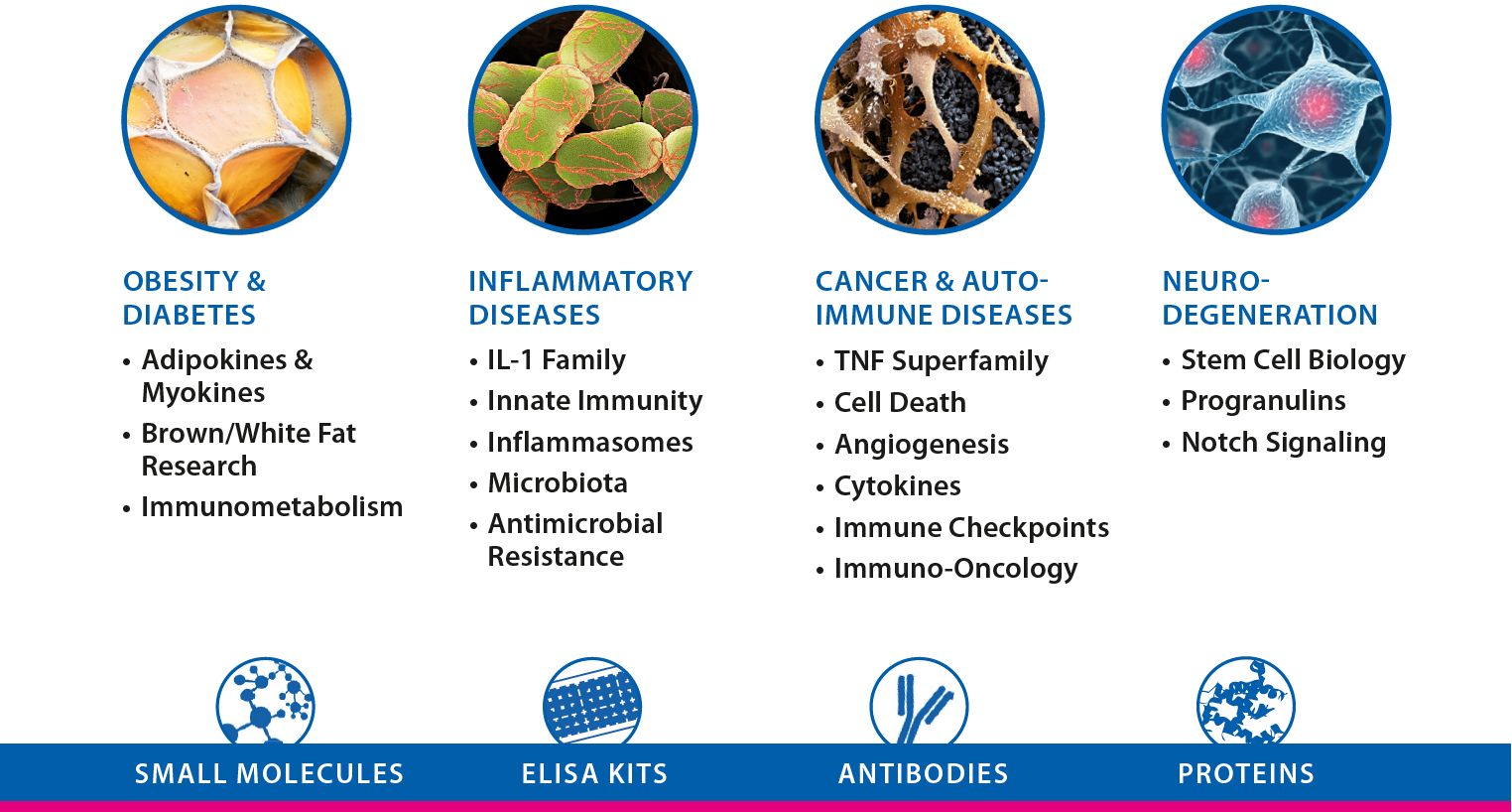 AdipoGen Life Sciences, Inc. (AdipoGen) has its corporate headquarters in San Diego, USA and the operational headquarters in Liestal, Switzerland. A motivated team of highly-skilled individuals develops and manufactures new products for the Life Science Research Market in the areas of obesity & diabetes, inflammasomes, inflammatory diseases, innate immunity, immunology, immuno-oncology, cancer, stem cell biology and neurodegeneration, supporting Advanced Inflammation, Immune Response & Immunometabolic Research. In addition to the ELISA kit, antibody (special focus functional antibodies and recombinant antibodies) and protein facilities, AdipoGen owns chemical laboratories, enabling the company to isolate unique natural products and to develop new and innovative small molecules and rare antibiotics.
AdipoGen's main fields of expertise inlcude:
Inflammasomes & Gasdermin Research

IL-1 Family

Obesity & Diabetes Research (Focus on Adipokines & Brown Fat Research)

Immunometabolism Research (Small Molecule Modulators)

B Cell Biology / TNF Superfamily

Antimicrobial Resistance & Microbiota (Rare/Unique Natural Products)

Neurodegeneration / Progranulin Research
Please see our Catalog, Product Flyer and Signaling Wallchart sections to download our latest brochure related to these topics.
AdipoGen's Product Categories:
In addition to the catalog business, AdipoGen specializes in selected Services to the research community. The services include development and production of proteins, antibodies (mAb, pAb and rAb), enzymes and ELISA assays, protein & antibody labeling, protein, antibody & ELISA assay validation, recombinant antibody conversion, humanizing antibodies, biomarker testing, synthesis of specialty chemicals, chemical sourcing and analysis.
AdipoGen Life Sciences provides all it's own developed products worldwide. Please contact us if you request more information.
---
More Information




Company Profile





Search our website for a COMPLETE PRODUCT OVERVIEW.


Please contact us at info@adipogen.com to receive more information on our proudcts, pricing or shipping information, or to receive print copies of the new AdipoGen Life Sciences Catalog, Flyers and Wallcharts!

Alternatively contact us by phone or fill in our Online Form to get in touch with us!








On Request
---