T Cell Immune Checkpoints for Immuno-Oncology Research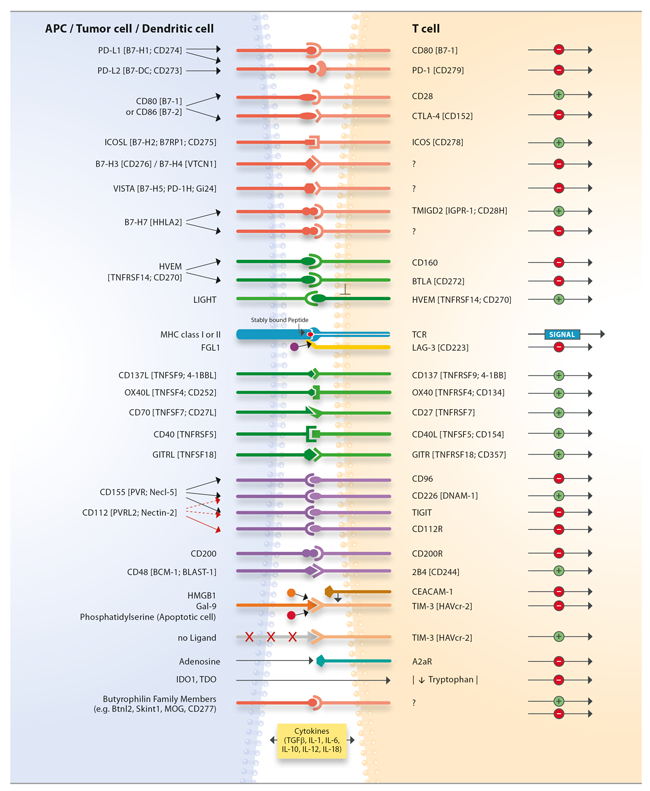 Regulation and activation of T lymphocytes depend on signaling by the T cell receptor (TCR) and also by cosignaling receptors that deliver negative or positive signals (see overview chart). The amplitude and quality of the immune response of T cells is controlled by an equilibrium between costimulatory and inhibitory signals called immune checkpoints. Under normal physiological conditions, immune checkpoints are crucial for the maintenance of self-tolerance and to protect tissues from damage during pathogenic infection. Manipulations of stimulatory or inhibitory immune checkpoints using monoclonal antibodies, soluble receptors (fusion proteins) or small molecules may provide therapeutic strategies for autoimmune diseases, tumor growth, infectious diseases and transplantation by decreasing or enhancing T cell activity. IHC-competent antibodies and highly sensitive immunoassays are of great importance for diagnostic and therapeutic control purposes.
Cancer immunotherapy (also called immuno-oncology) is an artificial stimulation of the immune system to treat cancer, improving on the system's natural ability to fight cancer. Immune checkpoints are regulators of the immune system that maintain immune homeostasis and prevent autoimmunity. Inhibitory checkpoint molecules, such as CTLA-4, PD-1, PD-L1 or LAG-3 are targets for cancer immunotherapy due to their potential of counteracting major tumor immune evasion mechanisms. AdipoGen Life Sciences offers a broad panel of immune checkpoint reagents, including recombinant proteins, antibodies and ELISA Kits.
Literature References:
1. The future of immune checkpoint therapy: P. Sharma & J.P. Allison; Science 348, 56 (2015)
2. Immune checkpoint blockade in infectious diseases: M.N. Wykes & S.R. Lewin; Nat. Rev. Immunol. 18, 91 (2018)
3. Fundamental Mechanisms of Immune Checkpoint Blockade Therapy: S.C. Wei, et al.; Cancer Discov. 8, 1069 (2018)
---
Select Your Pathway of Interest & Discover High Quality Reagents
---
---
More Information

---

Downloadable Flyer

---

Immune Checkpoint Reagents: Focus on T Cells

Cancer immunotherapy (also called immuno-oncology) is the artificial stimulation of the immune system to treat cancer, improving on the system's natural ability to fight cancer. Immune checkpoints are regulators of the immune system. These pathways are crucial for self-tolerance, which prevents the immune system from attacking cells indiscriminately. Inhibitory checkpoint molecules, such as CTLA-4, PD-1, PD-L1 or LAG-3 are targets for cancer immunotherapy due to their potential for use in multiple types of cancers. AdipoGen Life Sciences offers a broad panel of immune checkpoint reagents, including recombinant proteins, antibodies and ELISA Kits.

For an overview on AdipoGen Life Sciences entire panel of Immune Checkpoint Reagents please search this website.

Released - March 2019



Download

T Cell Immune Checkpoint Wallchart - 2nd Edition



Released - March 2019


Download
---