---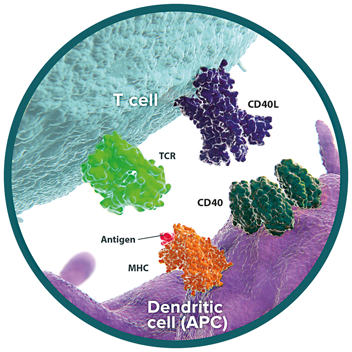 CD40 is a member of the TNF receptor family expressed by antigen-presenting cells (APCs) and B cells whereas its ligand, CD40L (CD154), is expressed by activated T cells. Interaction between CD40-CD40L stimulates cytokines secretion of B cells with subsequent T cell activation and antitumor immunity. This T cell priming effect of the CD40-CD40L pathway might be a useful approach in anticancer immunotherapy.
LIT: Cancer immunotherapy: activating innate and adaptive immunity through CD40 agonists: G.L. Beatty, et al.; Expert Rev. Anticancer Ther. 17, 175 (2017) • Multiple effects of CD40-CD40L axis in immunity against infection and cancer: A. Ara, et al.; Immunotargets Ther. 7, 55 (2018)
---
The CD40L (human) ELISA Kit (Prod. No. AG-45B-0018) is a sandwich ELISA for specific quantitative determination of human soluble CD40L in serum, plasma and cell culture supernatants. This ELISA Kit shows a very high specificity and sensitivity (20pg/ml).


---
B Cell Expansion: Highly Potent B Cell Activators and T Cell Priming Reagents
CD40 activation tools can be used to expand B cells, which, as antigen-presenting cells (APCs), are as effective as dendritic cells and promises to streamline the generation of antitumor CD8+ T cells. Several studies show that usage of the agonistic anti-CD40 antibody (FGK45) (Prod. No. AG-20B-0036PF) and MultimericCD40L (Prod. No. AG-40B-0010) are strong stimulators of antitumor immunity.
LIT: R.S. Kornbluth, et al.; Int. Rev. Immunol. 31, 279 (2012) • K.T. Byrne & R.H. Vonderheide; Cell Rep. 15, 2719 (2016)
---
| | | |
| --- | --- | --- |
| Figure: CD40L (human) (multimeric) (rec.) (Prod. No. AG-40B-0010) does not need an enhancer to induce B cell activation. | | |
---
| | | |
| --- | --- | --- |
| Figure: CD40L (human) (multimeric) (rec.) (Certified Serum Grade) (Prod. No. AG-40B-0010CSG) does not need an enhancer to induce B cell activation. | | |
---
| | | |
| --- | --- | --- |
| Figure: Systemic immune activation by CD40 ligation. Mice were sacrificed on day 8 after daily treatment on day 4-7 with FGK45 or control. FGK45 treatment elevated splenocyte numbers. *P < 0.005. Data represent mean ± SD for three to four mice per group. | | |
---
Biologically Active

CD40 and CD40L Proteins
---
VALIDATED

Antibodies for CD40 and CD40L Research
| | | | | |
| --- | --- | --- | --- | --- |
| Product Name | PID | Isotype | Applications | Species |
| CD40 (mouse), mAb (FGK45) (PF) | AG-20B-0036PF | Rat IgG2a | FACS, FUNC | Mouse |
| CD40 (human), mAb (BE-1) | ANC-189-020 | Mouse IgG1 | FACS, FUNC, IP | Human |
| CD40 (human), mAb (EA-5) | ANC-300-020 | Mouse IgG1 | FACS, FUNC | Human, Rat |
| CD40L (human), mAb (rec.) (blocking) (hu5c8) | AG-27B-6002PF | Human IgG1κ | FUNC, WB | Human, Dog |
| CD40L (human), mAb (24-31) | ANC-353-020 | Mouse IgG1 | FACS, FUNC, IHC, WB | Human, Primate |
---


Select Your Pathway of Interest & Discover High Quality Reagents
---