LAG-3 – Major Histocompatibility Complex (MHC) – T Cell Receptor (TCR) Pathway
---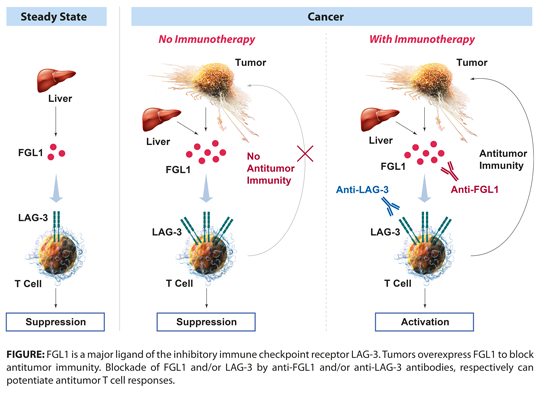 Lymphocyte-activation gene 3 (LAG-3; CD223) binds to major histocompatibility complex (MHC) class II molecules and functions as an immune checkpoint receptor expressed on the surface of both activated cytotoxic T cells and regulatory T cells (Tregs). LAG-3 negatively regulates T cell proliferation and the development of lasting memory T cells. LAG-3 synergizes with PD-1 in suppressing autoimmunity, tumor immunity and infection immunity and can also trigger the immunosuppressive activity of Tregs. Increased LAG-3 expression has been associated with poorer prognosis in multiple tumor types. Dual inhibition of LAG-3 and other checkpoint pathways may synergistically increase T cell antitumor activity.
New studies revealed how LAG-3 inhibits the activation of T cell response. It does not recognize MHC class II universally, but instead recognizes selectively MHC class II proteins presenting only stably bound peptides. In addition, the same study shows that LAG-3 does not compete CD4 for MHC-II interaction, but it blocks T cells by transducing inhibitory signals via its intracellular region. This recent study gives a new view on LAG-3 that might function more selectively than previously thought and probably acts to maintain immune tolerance to dominant autoantigens.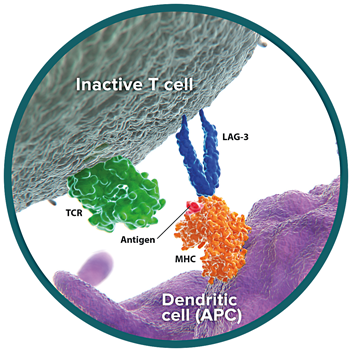 In addition, Fibrinogen-like Protein 1 (FGL1), a molecule secreted by the liver and pancreas, was identified as a major ligand for LAG-3 in both human and mouse. FGL1 binding to LAG-3 inhibits T cell response. FGL1 is upregulated in human cancers and high plasma FGL1 levels are associated with poor clinical outcome in patients treated with anti-PD1 therapy.
LIT: The CD4-like molecule LAG-3, biology and therapeutic applications: S. Sierro, et al.; Expert Opin. Ther. Targets 15, 91 (2011) • LAG-3 in Cancer Immunotherapy: M.V. Goldberg & C.G. Drake; Curr. Top. Microbiol. Immunol. 344, 269 (2011) • The promising immune checkpoint LAG-3: from tumor microenvironment enes Cancer 9, 176 (2018) • LAG-3 inhibits the activation of CD4+ T cells that recognize stable pMHCII through its conformation-dependent recognition of pMHCII: T. Maruhashi, et al.; Nat. Immunol. 19, 1415 (2018) • Fibrinogen-like protein 1 is a major immune inhibitory ligand of LAG-3: J. Wang, et al.; Cell 176, 334 (2019)
---
FGL1-LAG-3 interaction blockade promotes tumor immunity by stimulating T cell expansion and activation. FGL1 is highly produced by human cancer cells, and elevated FGL1 in the plasma of cancer patients is associated with a poor prognosis and resistance to anti-PD-1/ B7-H1 therapy.
The FGL1 (human) ELISA Kit (Prod. No. AG-45B-0022) is a sandwich ELISA assay for specific quantitative determination of human FGL1 in serum, plasma and cell culture supernatant. This ELISA Kit shows a very high specificity and sensitivity (1.8pg/ml). The ELISA Kit contains all major components and is provided with a pre-coated 96 well plate.
In addition, we also offer the FGL1 (human) Matched Pair Detection Set (Prod. No. AG-46B-0013). This is a sandwich ELISA assay for specific quantitative determination of human FGL1 in serum, plasma and cell culture supernatant as well. The detection set leaves the research freedom to experiment and the set contains sufficient materials to run ELISAs on 5 x 96-well plates. However, the customer has to coat the plates and additional lab work has to be performed in contrary to the ready-to-use ELISA Kit.


---

Biologically Active LAG-3 and FGL1 Proteins
---
VALIDATED

Antibodies for LAG-3 Research
| | | | | |
| --- | --- | --- | --- | --- |
| Product Name | PID | Isotype | Applications | Species |
| LAG-3, mAb (blocking) (11E3) (PF) | AG-20B-0011PF | Mouse IgG1 | FUNC, ICC, IHC, IP, WB | Human, Monkey |
| LAG-3 (human), mAb (blocking) (17B4) (PF) | AG-20B-0012PF | Mouse IgG1 | FACS, FUNC, ICC, IHC, IP, WB | Human |
| LAG-3 (human), mAb (AG-IHC103) | AG-20B-6023 | Mouse IgG1 | IHC | Human |
| MHC Class I (human), mAb (3F10) | ANC-121-020 | Mouse IgG2a | ELISA, FACS, IHC | Human |
| MHC Class II (human), mAb (TDR31.1) | ANC-131-020 | Mouse IgG1 | FACS, IHC, WB | Human |
| TCR Cβ1 (human), mAb (Jovi-1) | ANC-101-020 | Mouse IgG2a | FACS | Human |
| TCR Vβ3 (human), mAb (Jovi-3) | ANC-102-020 | Mouse IgG2aλ | FACS | Human |
| CD3 (human), mAb (UCHT1) | ANC-144-020 | Mouse IgG1 | FACS, WB, FUNC | Human |
| CD3 (mouse), mAb (145-2C11) | ANC-703-020 | Hamster IgG | FACS, IP, WB | Mouse |
| CD4 (human), mAb (QS4120) | ANC-147-020 | Mouse IgG1κ | FACS, FUNC | Human |
| CD4 (human), mAb (M-T441) | ANC-148-020 | Mouse IgG2b | FACS | Human, Monkey |
| CD4 (mouse), mAb (GK1.5) (PF) | ANC-704-820 | Rat IgG2bκ | FACS, FUNC, IHC, IP | Mouse |
| CD8 (human), mAb (UCHT4) | ANC-153-020 | Mouse IgG2a | FACS, ICC, WB | Human |
| CD8 (human), mAb (14) | ANC-154-020 | Mouse IgG1κ | FACS | Human |
| CD8-α (mouse), mAb (53-6) | ANC-260-020 | Rat IgG2aκ | FACS | Mouse |
---


Select Your Pathway of Interest & Discover High Quality Reagents
---