Chimerigen Laboratories - Immune Regulation Proteins
---


The Experts for High Quality Fusion Proteins
Since many years Chimerigen Laboratories, LLC (Chimerigen) develops, manufactures and markets high quality and leading edge proteins for biomedical and immunology research. One of Chimerigen's specialty is the production of unique immunoglobulin based chimeric fusion proteins using advanced cellular and molecular biological techniques. These reagents are used successfully in basic and applied research, providing advanced Immune Checkpoint Proteins, Interleukins and other Cytokines. AdipoGen has now become a trusted and reliable marketing and sales partner for Chimerigen's product panel. Because of the high performance characteristics and quality the Chimerigen fusion proteins are widely recognized reagents and are cited in many scientific publications.


Non-lytic Ig-based Chimeric Fusion Cytokines with Long Circulating Half-life
The potential clinical application of cytokines to modulate immune responses is very high. Unfortunately, most cytokines have short circulating half-lives. Therefore, to facilitate the study of cytokine effects in vivo, a variety of non-lytic immunoglobulin-based chimeric cytokine fusion proteins have been created, in which a cytokine sequence had been genetically fused to the hinge, CH2 and CH3 regions of an immunoglobulin.
These non-lytic fusion proteins possess both the biological functions of the cytokine moiety and a prolonged circulating half-life determined by the Fc domain. Mutations to the complement (C1q) and FcgR I binding sites of the IgGs Fc fragment render the fusion proteins incapable of antibody directed cytotoxicity (ADCC) and complement directed cytotoxicity (CDC). These fusion molecules also have the promise of being minimally to negligibly immunogenic since they are made entirely from elements derived from the species to be treated.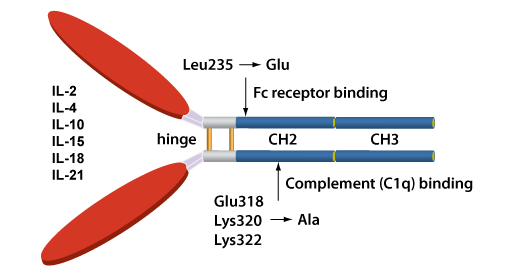 Figure: General structure of mouse non-lytic fusion proteins.
Literature:
- Localization of the binding site for the human high-affinity Fc receptor on IgG: A.R. Duncan, et al.; Nature 332, 563 (1988)
- The binding site for Clq on IgG: A.R. Duncan & G. Winter; Nature 332, 738 (1988)
- Administration of noncytolytic IL-10/Fc in murine models of lipopolysaccharide-induced septic shock and allogeneic islet transplantation: X.X. Zheng, et al.; J. Immunol. 154, 5590 (1995)
Chimerigen Laboratories, LLC and Adipogen Life Sciences, Inc. provide all Chimerigen Products worldwide. Please contact us for more information.
For Product Inquiries: info@chimerigen.ch
---
Latest Insights: IL-35 & its Involvment in Type 1 Diabetes (T1D)
Singh, et al. 2015, using Chimerigen's IL-35 (mouse):Fc (human) (rec.) (CHI-MF-11135) as a key reagent, recently showed that circulating IL-35 levels were decreased in human Type 1 Diabetes (T1D) patients compared to healthy controls. The findings of this study suggest that insufficient IL-35 levels play a pivotal role in the development of T1D and that treatment with IL-35 should be investigated in treatment of T1D and other autoimmune diseases.
LIT: Interleukin-35 administration counteracts established murine type 1 diabetes – possible involvement of regulatory T cells: K. Singh, et al.; Sci. Rep. 5, ID12633 (2015) - Link to Publication
---
Selected High Quality Fusion Proteins from Chimerigen
Fc Fusion Proteins Highlights
Non-lytic Fc Fusion Proteins Highlights
---
Visit our website for a COMPLETE PRODUCT OVERVIEW.
More Information

Product Flyer


Please contact us at info@chimerigen.ch to receive a print copy of the Chimerigen Immune Regulation Proteins Brochure 2016!

Also available for download!


Download
---