α-Galactosylceramide (α-GalCer) - Potent iNKT Activator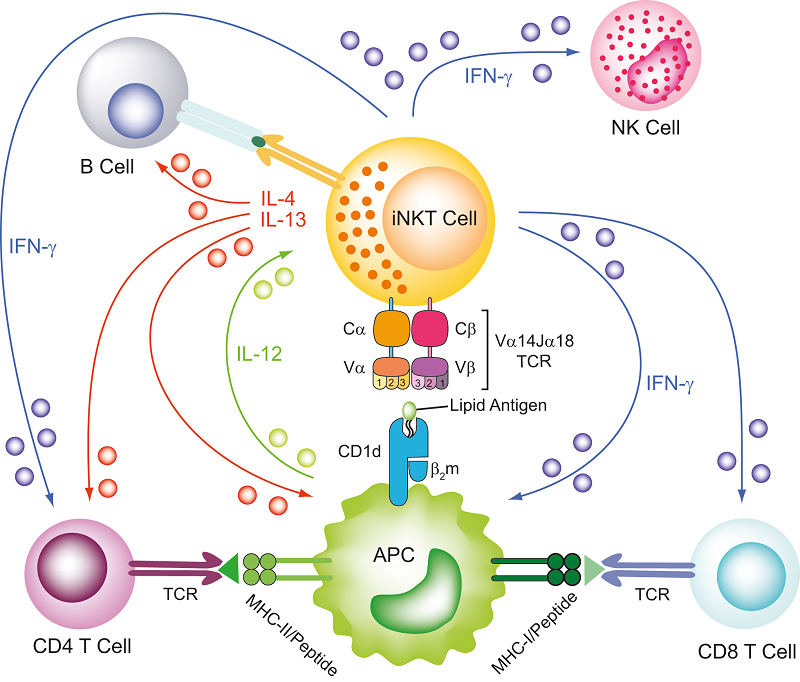 Invariant natural killer T (iNKT) cells are a subset of innate-like lymphocytes that express a characteristic antigen receptor that includes an invariant TCR-α chain and recognizes glycolipid antigens bound by the major histocompatibility complex (MHC)-class-I-related protein CD1d. iNKT cells are activated early during a variety of infections and inflammatory diseases and contribute to the subsequent development of adaptive immune responses. Consequently, iNKT cells play a critical role in the development and resolution of inflammatory diseases and represent attractive targets for the development of immunotherapies. In cancer, iNKT cells have attributed a role in immunosurveillance and act as potent activators of antitumor immunity when stimulated with a synthetic agonist.
Figure: iNKT Cell Activation by APC-presented Lipid Antigens
α-Galactosylceramide [α-GalCer]
α-Galactosylceramide (synthetic), also called α-GalCer or KRN7000, was originally isolated from an extract of the Okinawan marine sponge Agelas mauritianus. It is an α-galactosylated sphingolipid composed of α-linked sugar and lipid moieties. It is an analog of the marine natural product Agelasphin.
α-GalCer binds to CD1d, a nonclassical MHC I molecule. NKT cells that express the semi-invariant Vk14 T cell receptor (iNKT) recognize and respond to α-GalCer by proliferating and secreting IFN-γ, thereby supporting the induction of innate and adaptive immunity.
α-GalCer is a CD1d ligand and potent activator of iNKT cells. α-GalCer is presented by CD1d receptor on antigen-presenting cells (APCs) to the invariant T receptor in natural killer T (NKT) cells, Vα14 + NKT (iNKT), activating them to rapidly produce large amounts of immunomodulatory Th1/Th2 cytokines such as IFN-γ, IL-4 and IL-13. Cytokine induction leads to the activation of a variety of innate and adaptive immune cells. The affinity of the interaction, with a Kd value of ~100 nM, between CD1d-αGalCer and mouse TCRs, is one of the highest ever recorded for natural TCR/ligand pairs. iNKT cells play a crucial role in bridging the gap between innate and adaptive immune responses.
α-GalCer stimulates a strong immune response and exhibits potent anti-tumor activity in vivo. In metastatic models, treatment with α-GalCer suppressed the growth of tumors and prolonged the survival term of the tumor-bearing mice. In addition, α-GalCer has been reported to show various immunomodulatory properties in infectious diseases, autoimmune disease and graft versus host disease in mice. A unique quality of α-GalCer is that it triggers enhanced antibody production, even in mice lacking MHC II, suggesting that iNKT cells can, to a certain extent, substitute for conventional CD4+ T cells and provide assistance for the activation of B cells.
The activation of iNKT cells by α-GalCer has potential therapeutic applications, particularly in immunotherapy and cancer treatment. The compound has been investigated for its ability to enhance immune responses against cancer cells and infectious agents. It has been used in preclinical studies as a potential adjuvant in cancer immunotherapies, where it is used to stimulate the immune system to recognize and target cancer cells more effectively. In addition to cancer immunotherapy, α-GalCer and iNKT cell activation have been studied for their potential roles in autoimmune diseases, allergy and other immune-related conditions.
Literature References:
Synthesis of alpha-, beta-monoglycosylceramides and four diastereomers of an alpha-galactosylceramide: M. Morita, et al.; Bioorg. Med. Chem. Lett. 5, 699 (1995)
Immunostimulatory and antitumor activities of monoglycosylceramides having various sugar moieties: K. Motoki, et al.; Biol. Pharm. Bull. 18, 1487 (1995)
Activation of natural killer T cells by alpha-galactosylceramide rapidly induces the full maturation of dendritic cells in vivo and thereby acts as an adjuvant for combined CD4 and CD8 T cell immunity to a coadministered protein: Fujii S, et al.; J. Exp. Med. 198, 267 (2003)
Optimizing NKT cell ligands as vaccine adjuvants: L.J. Carreno, et al.; Immunotherapy 6, 309 (2014)
Synthetic glycolipid activators of natural killer T cells as immunotherapeutic agents: L.J. Carreno, et al.; Clin. Transl. Immunol. 5, e69 (2016)
NKT-cell glycolipid agonist as adjuvant in synthetic vaccine: Z. Liu & J. Guo; Carbohydr. Res. 452, 78 (2017)
CD1d-Invariant Natural Killer T Cell-Based Cancer Immunotherapy: α-Galactosylceramide and Beyond: L.A. King, et al.; Front. Immunol. 9, 1519 (2018)
α-GalCer and iNKT Cell-Based Cancer Immunotherapy: Realizing the Therapeutic Potentials: Y. Zhang, et al.; Front. Immunol. 10, 1126 (2019)
The Current Landscape of NKT Cell Immunotherapy and the Hills Ahead: A. Nelson, et al.; Cancers 13, 5174 (2021)
---
α-GalCer is a potent activator of iNKT cells with immunomodulatory properties and anti-tumor activity.
AG-CN2-0013 (250µg, 1 mg, 5 mg and BULK)
AdipoGen Life Sciences is an original Manufacturer of high-purity α-Galactosylceramide. BULK quantities are available from stock!
---
Product Specifications:

CAS: 158021-47-7


Source: Synthetic. Originally isolated from the marine sponge Agelas mauritianus


Purity: >96% NMR


Identity: Determined by 1H-NMR




Contact us at info@adipogen.com and inquire about BULK Pricing!
---
iNKT Stimulators -

Manufactured by AdipoGen Life Sciences!
| | | |
| --- | --- | --- |
| Product Name | PID | Product Description |
| α-Galactosylceramide [α-GalCer] | AG-CN2-0013 | Potent stimulator of invariant natural killer T (iNKT) cells. |
| α-Galactosylceramide Analog I (water soluble) [KBC-007] | AG-CR1-3608 | Potent stimulator of invariant natural killer T (iNKT) cells. Synthetic, soluble analog of α-galactosylceramide. |
| α-Galactosylceramide Analog 8 | AG-CR1-3622 | Potent stimulator of invariant natural killer T (iNKT) cells. Stimulates the production of smaller amounts of IFN-γ than α-galactosylceramide, but induces equal or greater IL-4 secretion in mouse models. |
| α-Galactosylceramide (Dansylated) | AG-CN2-0514 | Fluorescent potent stimulator of invariant natural killer T (iNKT) cells. Used as a fluorescent marker for the uptake of the glycolipid by dendritic cells (DCs). |
| 4-Fluorophenylundecanoyl-α-galactosylceramide [7DW8] | AG-CN2-0519 | Potent stimulator of invariant natural killer T (iNKT) cells (140-fold lower EC50 compared to α-GalCer). Potent vaccine adjuvant (~100 times stronger than α-GalCer) that can harness and amplify the immunotherapeutic potential of NKT cells to treat certain microbial infections such as malaria and HIV. |
| α-Mannosylceramide | AG-CR1-3594 | Potent stimulator of natural killer T (NKT) cells expressing the invariant Vα19-Jα26 T cell receptor α-chain (Vα19 NKT cells). |
| β-Mannosylceramide | AG-CR1-3621 | Potent stimulator of invariant natural killer T (iNKT) cells. |
| OCH | AG-CR1-3593 | Truncated analog of α-GalCer. Induces stronger interleukin-4 (IL-4) secretion and weaker interferon-γ (IFN-γ) secretion than α-GalCer. |