FNDC5/Irisin & FNDC4 - Members of the FNDC Protein Family
---
The FNDC (Fibronectin type III Domain-containing) family of proteins is characterized by at least one fibronectin type III domain (FN3). Eleven members (FNDC1 to FNDC11) of the fibronectin type III domain-containing (FNDC) protein family in humans have been identified. Their various functions include tissue development and cell adhesion, migration, proliferation and metabolism. Several studies showed that FNDCs are regulated by microRNAs.
FNDC1 (also called AGS8, Activator of G-Protein Signaling 8) is a regulator of cardiovascular functions. FNDC1 expression also correlates with several cancers, such as gastric, breast or prostate cancers. FNDC3A interacts with the human leukocyte antigen HLA-DRB1 in the pathogenesis of rheumatoid arthritis and expression analyses in colonic tissue showed that FNDC3A is upregulated in sporadic colorectal cancer. FNDC3B promotes epithelial-to-mesenchymal transition and activates multiple cancer pathways, for example, in squamous cell carcinoma, acute promyelocytic leukemia and hepatocellular carcinoma. FNDC4 is an anti-inflammatory and insulin-sensitizing factor, upregulated in human and murine intestinal inflammation, with therapeutic potential in inflammatory bowel disease (IBD) and in obese-diabetic patients. FNDC5 and its cleaved peptide hormone Irisin facilitate the conversion of white adipose tissue into beige adipose tissue. To summarize, FNDCs reveal a variety of functions in healthy and diseased conditions in multiple organs, with FNDC4 and FNDC5/Irisin being the most extensively studied FNDCs. AdipoGen Life Sciences offers a broad range of FNDC4, FNDC5 and Irisin research reagents, including Recombinant Proteins, Antibodies and ELISA Kits.
FNDC5/Irisin & FNDC4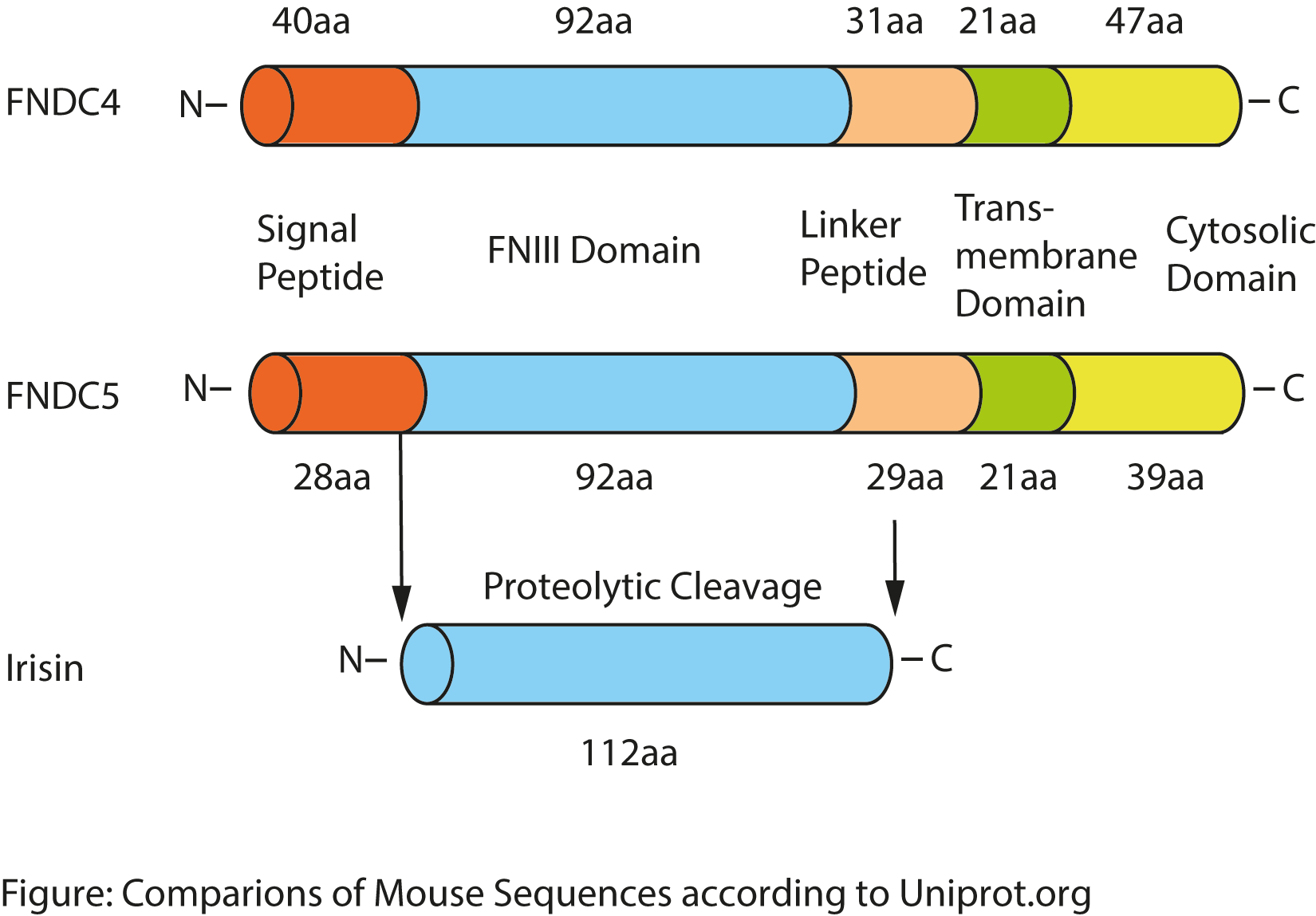 Fibronectin type III domain-containing protein 5 (FNDC5) (also called FRCP2, Fibronectin Type III repeat-containing protein 2) is expressed in most tissues including skeletal muscle and adipose tissue. The FNDC5 protein is induced by peroxisome proliferator-activated receptor γ coactivator 1α (PGC1α) and is involved in metabolic homeostasis. Upon exercise, FNDC5 expressed by skeletal muscles is proteolytically processed and secreted as the myokine Irisin (see Figure), which has several functions: i) it contributes to the conversion of white fat to higher oxygen consumable brown fat (also called beige fat) in response to exercise; ii) it regulates bone mineral density and bones remodeling; and iii) it increases synaptic plasticity and rescues memory and cognitive function of the brain in mouse models of Alzheimer's disease. AdipoGen's Irisin or Irisin-Fc have been used in many experiments to study muscle, bone or brain functions of Irisin.
Therefore, FNDC5/Irisin not only plays a vital role in energy metabolism but also has crucial roles in a variety of processes such as inflammation, proliferation, metastasis, aging and neural differentiation.
Figure: FNDC4 and FNDC5 are membrane proteins consisting of a C-terminal hydrophobic domain, a type III fibronectin domain and an N-terminal membrane signaling region. The N-terminus (extracellular region) can be cleaved to release the extracellular portion of the protein. The fibronectin type III domain is an evolutionary conserved domain in animal proteins. FNDC4 is an ortholog of FNDC5 with 50% identity and 86% similarity compared to Irisin. FNDC4 as well as FNDC5 are extremely well conserved between species.
Fibronectin type III domain-containing protein 4 (FNDC4), also called fibronectin type III repeat-containing protein 1 (FRCP1) is a type I transmembrane protein, which has been demonstrated to be released in serum as a soluble bioactive protein that is highly conserved among mouse and human, similarly to FNDC5. The human FNDC4 gene is highly enriched in liver, brain tissue and adipocytes. Soluble FNDC4 (sFNDC4) has been reported to exert anti-inflammatory effects on macrophages, osteoclasts and adipocytes, promoting survival in response to severe chronic inflammation. FNDC4 is also a hepatokine secreted from liver that acts in white adipose tissue via the new orphan adhesion G protein-coupled receptor 116 (GPR116) to control the systemic glucose homeostasis. FNDC4-GPR116 axis is impaired in diabetic patients and therapeutic injections of recombinant Fc-FNDC4 into pre-diabetic mice correct pre-diabetic hyperglycemia [Lit. Ref. 11]. FNDC4 is a factor with direct therapeutic potential in inflammatory diseases and in pre-diabetic patients to control glucose tolerance.
Literature References:
Frcp1 and Frcp2, two novel fibronectin type III repeat containing genes: A. Teufel, et al.; Gene 297, 79 (2002)
FNDC4 acts as an anti-inflammatory factor on macrophages and improves colitis in mice: M. Bosma, et al.; Nat. Commun. 7, 11314 (2016)
FNDC5 is produced in the stomach and associated to body composition: S. Barja-Fernandez, et al.; Sci. Rep. 6, 23067 (2016)
Expression Analysis of Fibronectin Type III Domain-Containing (FNDC) Genes in Inflammatory Bowel Disease and Colorectal Cancer: W. Tilo, et al.; Gastroenterol. Res. Pract. 2019, 3784172 (2019)
Fibronectin type III domain-containing 4 promotes the migration and differentiation of bovine skeletal muscle-derived satellite cells via focal adhesion kinase: Z. Wang, et al.; Cell Adh. Migr. 14, 153 (2020)
FNDC4, a novel adipokine that reduces lipogenesis and promotes fat browning in human visceral adipocytes: G. Fruhbeck, et al.; Metabolism 108, 154261 (2020)
FNDC5/Irisin: A New Protagonist in Acute Brain Injury: T. Tu, et al.; Stem Cells Dev. 29, 533 (2020)
New insights into the cellular activities of Fndc5/Irisin and its signaling pathways: F. Rabiee, et al.; Cell Biosci. 10, 51 (2020)
Progress and Challenges in the Biology of FNDC5 and Irisin: S. Maak, et al.; Endocrine Rev. 42, 436 (2021)
The Effect of Irisin as a Metabolic Regulator and Its Therapeutic Potential for Obesity: H. Li, et al.; Int. J. Endocrinol. ID6572342 (2021)
Orphan GPR116 mediates the insulin sensitizing effects of the hepatokine FNDC4 in adipose tissue: A. Georgiadi, et al.; Nature Commun. 12, 2999 (2021)
---

Biologically Active FNDC4, FNDC5 and Irisin Proteins
Product Name

PID

Source

Endotoxin

Species

NEW

Fc (human):FNDC4 (rec.) BULK Available for in vivo Studies!

AG-40B-0213

HEK 293 cells

<0.01EU/µg

Human, Mouse, Rat, Dog, Monkey

FNDC4 (rec.) (untagged)

AG-40B-0124

E. coli

<0.01EU/µg

Human, Mouse, Rat, Dog, Monkey

FNDC5:Fc (human) (rec.)

BULK Available for in vivo Studies!

AG-40B-0153

HEK 293 cells

<0.01EU/µg

Human, Mouse, Rat

FNDC5 (rec.) (untagged)

AG-40B-0128

E. coli

<0.01EU/µg

Human, Mouse, Rat

Irisin:Fc (human) (rec.)

BULK Available for in vivo Studies!

AG-40B-0115

HEK 293 cells

<0.01EU/µg

Human, Mouse, Rat, Monkey

Irisin (rec.) (CHO)

AG-40B-0136

CHO cells

<0.01EU/µg

Human, Mouse

Irisin (rec.) (HEK293)

AG-40B-0102

HEK 293 cells

<0.1EU/µg

Human, Mouse

Irisin (rec.) (untagged) (E. coli)

AG-40B-0103

E. coli

<0.1EU/µg

Human, Mouse
---
High Quality

Antibodies and ELISA Kits for Irisin Research
| | | | | |
| --- | --- | --- | --- | --- |
| Product Name | PID | Isotype | Applications | Species |
| Irisin, pAb (IN102) | AG-25B-0027 | Rabbit IgG | WB | Human, Mouse, Rat, Monkey |
| Irisin, pAb (IN102) (Biotin) | AG-25B-0027B | Rabbit IgG | WB | Human, Mouse, Rat, Monkey |
| | | | | |
| Product Name | PID | Sensitivity | Range | Samples |
| FNDC4 (human) ELISA Kit | AG-45B-0028 | 40 pg/ml | 0.078 to 5 ng/ml | Cell Culture Supernatant, Plasma, Serum |
| Irisin Competitive ELISA Kit | AG-45A-0046Y | 1 ng/ml | 0.001- 5 µg/ml | Cell Culture Supernatant, Plasma, Serum |
| | | | | |