The reproducibility of scientific studies has become a major issue, leading to a lack of trust in scientific results from the academic and pharmaceutical research communities. The ongoing dialogue on reproducibility of results includes the role of improperly validated research reagents, such as antibodies. Antibodies are invaluable tools in the life sciences and have become workhorses of basic research. Their high specificity and selectivity for unique protein targets make them indispensable research reagents. However, although antibodies are designed to recognize a target protein, they may not be able to do so in all applications (e.g. those that alter the target protein's structure).
The number of antibody suppliers contributing commercial antibodies to the Research Use Only (RUO) space has steadily increased over the past several years, with inconsistent validation data to confirm sensitivity, specificity, reactivity and lot-to-lot consistency.
For this reason a number of initiatives brought forth by a committee of international scientists and leaders from academic and industry labs, journal editors and commercial antibody vendors, including Adipogen Life Sciences, have suggested broad guidelines for antibody validation as well as detailed context-dependent measures that should be followed by antibody suppliers (see Ref 1 for the meeting overview, Ref 2 and 3 for validation proposals and section below "Experiments performed for Antibody Validation").
In addition, the researchers approach has to be adapted as well. One step that researchers can take is to review the data sheet carefully with respect to the applications for which the antibody in question has been validated. It is also recommended that users of antibodies carry out at least one of the validation strategies described below in their own particular application or sample context.
The last point is a proper citing of the individual antibodies used in publications. A simple indication of the brand name is not enough. Not only can the correct batch information be useful, but also the correct reference of the product identification number (PID#). Often antibody suppliers provide several antibodies to the same target and the correct identification number is necessary for the reproducibility of the results.
For both antibody suppliers and researchers, the ultimate solution to the antibody validation problem will be to rely on the fundamental principles of research, "doing good science". Developing an antibody and validating it is not different from doing an experiment correctly and doing the right experimental design with the proper positive and negative controls.
Ref 1: Antibody validation: a view from the mountains: M.J. Taussig, et al.; New Biotechnol. 45, 1 (2018)
Ref 2: A proposal for validation of antibodies: M. Uhlen, et al.; Nat. Methods 13, 823 (2016)
Ref 3: Ten Basic Rules of Antibody Validation: M.G: Weller, et al.; Anal. Chem. Insights 13, 1177390118757462 (2018)
Experiments performed for Antibody Validation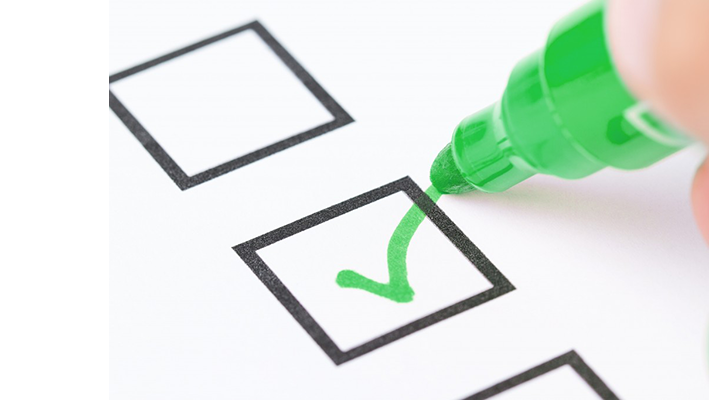 Validation criteria for antibodies include specificity ("off target" binding properties), sensitivity ("on target" binding properties) and reproducibility (lot-to-lot consistency) experiments. In addition, it is important that antibody validation approaches must be carried out in an application- and context-specific manner (to detect a protein in a native or a denatured conformation). At Adipogen Life Sciences we follow for each antibody two or more of the different below-indicated criteria with recombinant and endogenous targets that are performed in each validated application.
- Detection of properly folded recombinant target protein, protein tags and closely related proteins.
- Analysis of cell lines with known target expression levels (positive controls).
- Analysis of cell lines known not to express the target protein (negative controls).
- Genetic approach: Target-specific signal verified in transfected cells, knockout cells, or knock-down (CRISPR/Cas9 or siRNA-treated) cells.
- Comparison of results with antibody and isotype control to ensure acceptable signal-to-background ratio.
- Blocking with antigen peptide to confirm elimination of specific signal.
- Side-by-side comparison of a new lot with previous lots to ensure lot-to-lot consistency.
- Treatment of cells with appropriate triggers or physiological induction to detect an increase or a decrease of the target protein expression.
- Analysis of secreted targets in biological fluids (cell culture supernatant, plasma, serum, urine, others) using naturally occurring variable expression (e.g. healthy versus pathological conditions).
Functional/Application Validation
AdipoGen Life Sciences focuses on experimental applications that are of highest interest to the research community. We follow the ongoing research together with academic experts in their field of research to continuously improve experimental setups and provide optimized, detailed protocols. In addition, our technical support team provides a quick and reliable service to address your special inquiries and experimental setup. Below is an overview of validated application types performed at AdipoGen Life Sciences depending on the antibody and target.
- ELISA Antibody-Protein Binding assays performed in-house.
- Western blot, Immunoprecipitation and Flow Cytometry applications performed in-house or in collaboration with academic experts.
- Immunofluorescence application performed in collaboration with academic experts or industry partners.
- In vitro Functional applications performed in-house and in vivo experiments performed in collaboration with academic experts.
---
Antibody Validation Program
---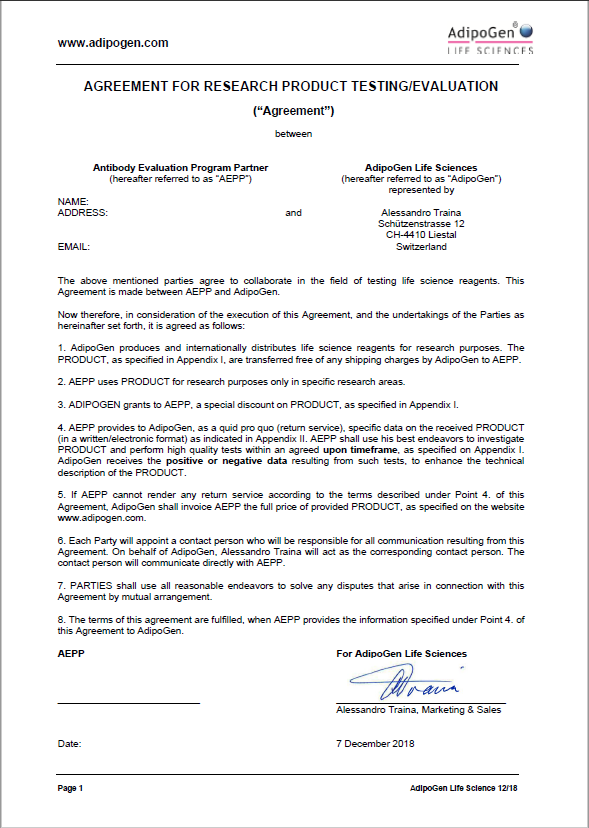 AdipoGen Life Sciences' goal is to continuously improve the product data description of our manufactured antibodies. Since our in-house validation focuses on experimental applications that are of highest interest, we might not have comprehensive application or cross-reactivity data for all antibodies. To address this fact, we have implemented an Antibody Validation Program, which allows researchers to test a defined group of antibodies in their experimental setups. These are provided free of charge in exchange for test results.
If you are interested in participating in our Antibody Validation Program please contact us at info@adipogen.com with the following information a) what experiments you plan to do and, b) which antibody you would like to test (see below list). You can also download our Antibody Evaluation Agreement (right side), fill in the form and return it by email.
Below is a list of antibodies that are included in our Antibody Validation Program and ordered by Product Name (with direct Links):
| | | | | | | | |
| --- | --- | --- | --- | --- | --- | --- | --- |
| PID | Product Name | | PID | Product Name | | PID | Product Name |
| AG-25A-0042 | ACE2 (human), pAb | | AG-25A-0097 | CTRP7 (globular domain) (human), pAb | | AG-25A-0033 | Nampt (Visfatin/PBEF) (rat), pAb |
| AG-20A-0056 | Adiponectin (human), mAb (ADI 943) | | AG-25A-0117 | CTRP7 (human), pAb | | AG-20B-0039 | Netrin-4, mAb (Nely-1) |
| AG-25B-0010 | Adiponectin Receptor 1 (human), pAb (AL238) | | AG-25A-0109 | CTRP9 (human), pAb | | AG-20A-0087 | NMNAT2 (human), mAb (Nady-1) |
| AG-25B-0012 | Adiponectin Receptor 2 (mouse), pAb (AL241) | | AG-25A-0092 | DLK1 (human), pAb | | AG-25A-0113 | NMNAT2 (human), pAb |
| AG-25A-0068 | ANGPTL2 (human), pAb | | AG-20A-0058Y | DLK1 (mouse), mAb (PF183E) | | AG-25B-0013 | Nod1 (human), pAb (AL184) |
| AG-25A-0060 | ANGPTL3 (CCD) (human), pAb | | AG-25A-0062 | DLL1 (human), pAb | | AG-20A-0086 | NQO1 (human), mAb (Skiny-1) |
| AG-25A-0064 | ANGPTL3 (FLD) (human), pAb | | AG-20A-0085 | DLL1 (mouse), mAb (D1L357-1-4) | | AG-25A-0105 | NQO1 (human), pAb |
| AG-20A-0039 | ANGPTL3 (human), mAb (Kairos-37) | | AG-20A-0080 | DLL4 (human), mAb (DL86-3AG) | | AG-25A-0043 | Obestatin (human), pAb |
| AG-25A-0052 | ANGPTL3 (human), pAb | | AG-25A-0102 | DNER (human), pAb | | AG-20B-0031 | Omentin (human), mAb (Lecty-1) |
| AG-20A-0046 | ANGPTL4 (CCD) (human), mAb (Kairos4-153AD) | | AG-25A-0040 | FABP3 (human), pAb | | AG-25A-0051 | Omentin (human), pAb |
| AG-25A-0066 | ANGPTL4 (CCD) (human), pAb | | AG-25A-0041 | FABP4 (human), pAb | | AG-25A-0112 | Progranulin (human), pAb |
| AG-25A-0038 | ANGPTL4 (human), pAb | | AG-20A-0066 | FGF-19 (human), mAb (FG369-1) | | AG-25A-0021 | RANK (ectodomain) (human), pAb |
| AG-25A-0055 | ANGPTL4 (human), pAb | | AG-20A-0065 | FGF-19 (human), mAb (FG98-6) | | AG-25A-0016 | RANKL (human), pAb |
| AG-25A-0069 | ANGPTL5 (CCD) (human), pAb | | AG-25A-0076 | FGF-21 (mouse), pAb | | AG-20A-0060 | RELM-alpha (mouse), mAb (MREL 127) |
| AG-25A-0037 | ANGPTL6 (human), pAb | | AG-20A-0051 | FGF-21, mAb (FG224-7) | | AG-25A-0010 | RELM-alpha (mouse), pAb |
| AG-25A-0095 | ANGPTL7 (CCD) (human), pAb | | AG-20A-0073 | FGF-23 (human), mAb (FG322-3) | | AG-20A-0061 | RELM-alpha (rat), mAb (RREL 803) |
| AG-20A-0053 | ANGPTL7 (human), mAb (Kairos 108-4) | | AG-25A-0035 | FOXP3 (mouse), pAb | | AG-25A-0011 | RELM-alpha (rat), pAb |
| AG-20A-0055 | ANGPTL7 (human), mAb (Kairos 397-7) | | AG-25A-0084 | FTO (human), pAb | | AG-20A-0012 | RELM-beta (human), mAb (HRB 149) |
| AG-25A-0050 | ANGPTL7 (human), pAb | | AG-25A-0089 | FTO (mouse), pAb | | AG-25A-0012 | RELM-beta (human), pAb |
| AG-25A-0006 | beta-Pix (mouse), pAb | | AG-20A-0007 | GITR (mouse), mAb (MGIT 02) | | AG-25A-0063 | RELM-beta (mouse), pAb |
| AG-25B-0033 | Betatrophin (human), pAb (IN108) | | AG-25A-0073 | GPX3, pAb | | AG-25A-0015 | Resistin (rat), pAb |
| AG-25B-0035 | CD112R (mouse), pAb (IN109) | | AG-25A-0090 | Granulin C (human), pAb | | AG-25A-0078 | SENP2 (mouse), pAb |
| AG-25A-0049 | Clusterin (human), pAb | | AG-25B-0026 | IGFLR1 (human), pAb (IN101) | | AG-25A-0083 | Sirtuin 2 (human), pAb |
| AG-25A-0054 | Clusterin (mouse), pAb | | AG-20A-0027 | IL-23p19 (human), mAb (I 178G) | | AG-25A-0100 | Sirtuin 5 (human), pAb |
| AG-25A-0114 | CTRP1 (human), pAb | | AG-25A-0045 | IL-33 (human), pAb | | AG-20A-0091 | Sirtuin 6 (human), mAb (S6R82-2) |
| AG-25A-0115 | CTRP2 (human), pAb | | AG-20A-0042 | IL-33, mAb (IL33068A) | | AG-25A-0101 | Sirtuin 6 (human), pAb |
| AG-25A-0110 | CTRP3 (globular domain) (human), pAb | | AG-25B-0032 | IL-36beta (human), pAb (IN107) | | AG-25A-0106 | TDO (human), pAb |
| AG-25A-0107 | CTRP3 (human), pAb | | AG-25A-0111 | IL-37 (human), pAb | | AG-20A-0029 | Tim-3 (mouse), mAb (TI 339H) |
| AG-25A-0096 | CTRP5 (globular domain) (human), pAb | | AG-25A-0087 | Lipocalin-2 (human), pAb | | AG-25B-0011 | TRAM (human), pAb (AL239) |
| AG-25A-0103 | CTRP5 (human), pAb | | AG-25A-0088 | Lipocalin-2 (rat), pAb | | AG-25A-0059 | TRB-3 (human), pAb |
| AG-25A-0116 | CTRP5 (human), pAb | | AG-25A-0088 | Lipocalin-2 (rat), pAb | | AG-25A-0075 | Vaspin (mouse), pAb |
| AG-20A-0093 | CTRP6 (human), mAb (256-E) | | AG-25A-0061 | MFAP4 (human), pAb | | | |
| AG-25A-0108 | CTRP6 (human), pAb | | AG-25A-0028 | Nampt (Visfatin/PBEF) (mouse), pAb | | | |
---