---


Developing innovative labeling and detection systems for biological and medical science
Since 1976 Vector Laboratories has provided innovative labeling and detection solutions to the scientific community. Shortly after introducing a line of purified lectin reagents, Vector Laboratories revolutionized the field of histological staining with development of the versatile and sensitive Biotin-Avidin detection method leading to the VECTASTAIN® ABC Kits/products. These reagents provide consistent, reliable, sensitive, and low background staining for immunohistochemistry and other applications.
Over the ensuing years, Vector Laboratories has continued to innovate with the development of key reagents including:
- the ImmPRESS™ polymer detection systems - peroxidase micropolymers directly conjugated to secondary antibodies, which streamline detection procedures;
- the Vector® M.O.M.™ reagents, enabling the use of mouse primary antibodies on mouse tissue;
- proprietary enzyme substrates that yield a palette of colors for multiple labeling needs
- the acclaimed anti-fade VECTASHIELD® mounting mediums
- fluorescent products labeled with classic fluors as well as the new DyLight® dyes that allow superior fluorescence capabilities.

Other pioneering products include neuronal tracers, ultrapure immunological products, and novel reagents for labeling, detection and isolation of nucleic acids, fusion proteins and carbohydrates.

Vector Laboratories' substantial presence in the scientific literature is a testament to the widespread use of their products and the products quality.
AdipoGen Life Sciences provides all Vector Laboratories Products in Switzerland. Please contact us if you request more information.
---
Featured Items
---
Vectashield® Vibrance™ Antifade Mounting Media with or without DAPI (VC-H-1700 & VC-H-1800)
VECTASHIELD Vibrance products are completely new formulations of curing antifade mounting media for immunofluorescence applications. These newest additions to Vector Laboratories VECTASHIELD portfolio were developed with customer feedback to improve on parameters such as ease of use and retention of specific staining intensity over time.
VECTASHIELD Vibrance Antifade Mounting Medium prevents rapid photobleaching of fluorescent proteins and fluorescent dyes on cell and tissue section preparations. VECTASHIELD Vibrance Antifade Mounting Medium is supplied as an aqueous, ready-to- use formulation which will cure (set) over several hours at room temperature to immobilize the coverslip. No further sealing of the coverslip is required. Each lot is tested for photobleaching retardance with qualitative and quantitative methods. VECTASHIELD Vibrance Antifade Mounting Medium is compatible with the majority of commercially available fluorescent dyes. The antifade properties of the medium are effective across the spectrum, including far red channels.
Why VECTASHIELD Vibrance Mounting Media?
> Superior antifade/anti-photobleaching properties across the spectrum
> Compatibility with commonly used fluorophores
> View sections one hour after mounting
> No tone or autofluorescent background, even after curing
> Room temperature storage of slides with extended archiving time
> Minimal bubble formation, even after several weeks storage
> Curing formulations with choice of counterstain (DAPI) or no counterstain
> 12 month product expiration date

Download the Vectashield Vibrance Product Flyer or Visit the Official Vectashield Vibrance Landing Page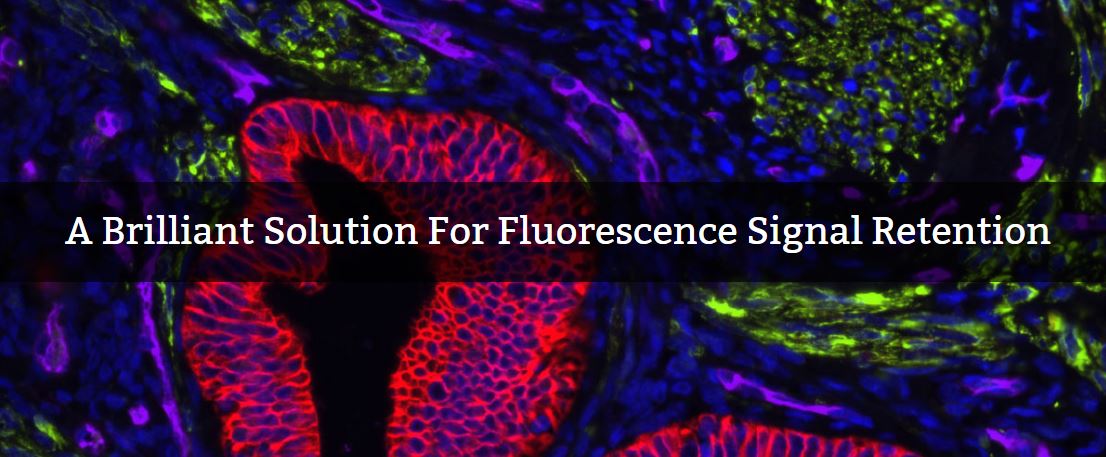 ---
Vector® TrueVIEW™ Autofluorescence Quenching Kit (VC-SP-8400)
Vector Laboratories introduces the TrueVIEW™ Autofluorescence Quenching Kit, offering the first effective technique for removing unwanted fluorescence in formalin-fixed paraffin embedded (FFPE) tissue samples, blood cells and structural elements such as collagen and elastin. Autofluorescence often impairs or prevents the use of immunofluorescence assays when the specific stained antigen cannot be distinguished from the interfering background signal. This is particularly problematic with tissue samples preserved using the FFPE method. TrueVIEW specifically targets background autofluorescence, and retains the intended specific fluorescent staining. TrueVIEW is effective across the spectral range from blue to far red and is compatible with commonly used fluorophores. This new quenching reagent enables researchers to identify specific markers that cannot be seen without removing the background noise of autofluorescence.
Applying TrueVIEW™ to sections is fast, requiring just five minutes for incubation. Ethanol steps and dilution are not required. The Vector TrueVIEW™ kit includes VECTASHIELD HardSet Antifade mounting media and contains enough reagent for between 100 and 150 tissue sections.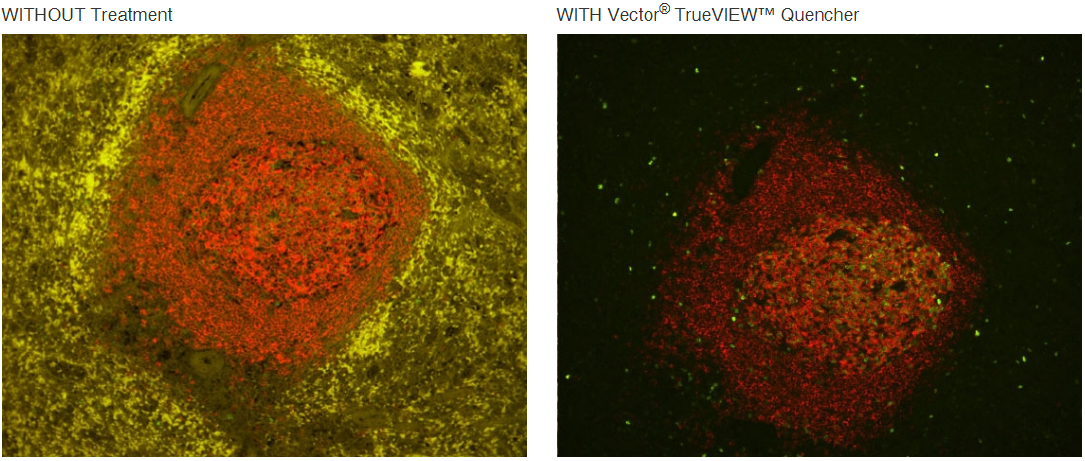 ---
Brochures/Tools Available
---
Multiple Antigen Labeling Guide
Trouble shooting mouse primary antibodies on mouse tissue
---
More Information

General Catalog


Visit the official website www.vectorlabs.com

- a complete overview on all products

and many more useful information.



Please contact us at info@adipogen.com to receive a copy of the
Vector Laboratories 2012 General Catalog or download it!

---

---

---

Lectins Application and Resource Guide

Download the Brochure.

A new updated Guide for the broad Lectin product range available from Vector Laboratories.

Released - May 2020





---

---

---

Immunofluorescence (IF) Guide

Selecting the appropriate reagents for your IF experiments is an important part of optimizing your protocol. This IF Resource Guide will help you navigate through the many choices of detection systems, substrates, and ancillary reagents that complete your workflow.

A new updated Guide including the Vector TrueView Autofluorescence Quenching Kit as a Featured Product is in process.

Released - April 2018





---

---

---

Immunohistochemistry Guide

Selecting the appropriate reagents for your IHC assay is an important part of optimizing your protocol. This IHC Resource Guide will help you navigate through the many choices of detection systems, substrates, and ancillary reagents that complete your workflow.

Released - March 2017





---

---

---

Lectins & Glycobiology Brochure

Download the Brochure

Released - April 2018

---

---

---

SpotLight

New VectaCell™ Products for Live Cell Imaging

Download the Product SpotLight Flyer

Released - June 2016


Download
---