---


Developing innovative labeling and detection systems for biological and medical science
Vector Laboratories empowers scientific advances with innovative proteomic and glycomic solutions. Supporting scientific industries worldwide for 45 years and counting, Vector Laboratories is a trusted manufacturing partner with unmatched technical expertise and a culture of service. Customers rely on Vector Laboratories' immunohistochemistry, immunofluorescence, glycobiology, and bioconjugation products and custom manufacturing capabilities to move science forward with impact. Vector Laboratories' market-tested product portfolio provides the critical tools researchers need to precisely visualize and study tissues and cells and to tackle today's biggest healthcare challenges. The company's products and technologies have been cited in more than 350,000 peer-reviewed publications, and its catalog and custom products are included in laboratory Standard Operating Procedures around the world.
Vector Laboratories, pioneered and has become a market leader in labeling and detection reagents for immunohistochemistry, immunofluorescence, glycobiology and bioconjugation. Vector has introduced over 600 reagents and kits used by disease and therapeutics researchers from around the world and its facilities are ISO 9001:2015 certified.
Vector Laboratories is online at www.vectorlabs.com.
Since 1976 Vector Laboratories has provided innovative labeling and detection solutions to the scientific community. Shortly after introducing a line of purified lectin reagents, Vector Laboratories revolutionized the field of histological staining with the development of the versatile and sensitive Biotin-Avidin detection method leading to the VECTASTAIN® ABC Kits/products. These reagents provide consistent, reliable, sensitive, and low background staining for immunohistochemistry and other applications.
Over the ensuing years, Vector Laboratories has continued to innovate with the development of key reagents including:
- the ImmPRESS™ polymer detection systems - peroxidase micropolymers directly conjugated to secondary antibodies, which streamline detection procedures;
- the Vector® M.O.M.™ reagents, enabling the use of mouse primary antibodies on mouse tissue;
- proprietary enzyme substrates that yield a palette of colors for multiple labeling needs
- the acclaimed anti-fade VECTASHIELD® mounting mediums
- fluorescent products labeled with classic fluors as well as the new DyLight® dyes that allow superior fluorescence capabilities.

Recently, the SoluLINK Bioconjugation Product Range has been incorporated as part of Vector Laboratories. SoluLINK bioconjugation technology meets stringent requirements. It mildly, efficiently, and reproducibly conjugates and immobilizes all categories of biomolecules, including proteins, peptides, oligonucleotides, carbohydrates, drugs and surfaces. This chemistry is based on the reaction of an aromatic hydrazine with an aromatic aldehyde, which forms a stable bis-arylhydrazone conjugate bond. When functionalizing amines, S-HyNic is used to incorporate 6-hydrazinonicotinamide (HyNic) groups. This linker possesses a succinimidyl ester (NHS ester) that readily reacts with amino groups on proteins, other amine-containing biomolecules and surfaces using standard NHS ester reaction conditions. The aromatic aldehyde is incorporated on biomolecules with S-4FB in the same manner.
AdipoGen Life Sciences provides all SoluLINK Bioconjugation reagents through its partnership with Vector Laboratories. All SoluLINK Products are listed on our website with the starting abbreviation "VCS-". Please contact us if you request further information.
AdipoGen Life Sciences provides all Vector Laboratories Products in Switzerland. Please contact us if you request more information.
---
Featured Items
---
VectaMount® Express Mounting Medium (VC-H-5700)
VectaMount Express Mounting Medium is a non-aqueous clearing and mounting medium enabling the rapid mounting of cell and tissue specimens following immunohistochemistry (IHC) staining. This novel formulation is engineered to enable mounting directly following staining - just stain your slides as per your usual workflow, briefly wash in isopropyl alcohol, and coverslip.
Faster IHC clearing and mounting
> Save time: Stop wasting your valuable time with up to 30 minutes of tedious slide handling through an ethanol dehydration series and xylene clearing. Just stain, wash, and mount.
> Save money: Minimize the need for alcohols and xylenes - and the associated disposal costs - in your IHC workflow.
> Enjoy convenience: With a mounting workflow that's ready and available when you are, staining is more accessible. Streamline your IHC workflow and get right to your imaging.


Download the VectaMount Express Mounting Medium or Visit the Official VectaMount Express Mounting Medium Landing Page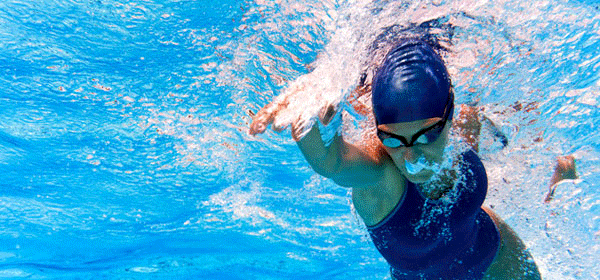 ---
Vectashield® Vibrance™ Antifade Mounting Media with or without DAPI (VC-H-1700 & VC-H-1800)
VECTASHIELD Vibrance products are completely new formulations of curing antifade mounting media for immunofluorescence applications. These newest additions to Vector Laboratories VECTASHIELD portfolio were developed with customer feedback to improve on parameters such as ease of use and retention of specific staining intensity over time.
VECTASHIELD Vibrance Antifade Mounting Medium prevents rapid photobleaching of fluorescent proteins and fluorescent dyes on cell and tissue section preparations. VECTASHIELD Vibrance Antifade Mounting Medium is supplied as an aqueous, ready-to- use formulation which will cure (set) over several hours at room temperature to immobilize the coverslip. No further sealing of the coverslip is required. Each lot is tested for photobleaching retardance with qualitative and quantitative methods. VECTASHIELD Vibrance Antifade Mounting Medium is compatible with the majority of commercially available fluorescent dyes. The antifade properties of the medium are effective across the spectrum, including far red channels.
Why VECTASHIELD Vibrance Mounting Media?
> Superior antifade/anti-photobleaching properties across the spectrum
> Compatibility with commonly used fluorophores
> View sections one hour after mounting
> No tone or autofluorescent background, even after curing
> Room temperature storage of slides with extended archiving time
> Minimal bubble formation, even after several weeks storage
> Curing formulations with choice of counterstain (DAPI) or no counterstain
> 12 month product expiration date

Download the Vectashield Vibrance Product Flyer or Visit the Official Vectashield Vibrance Landing Page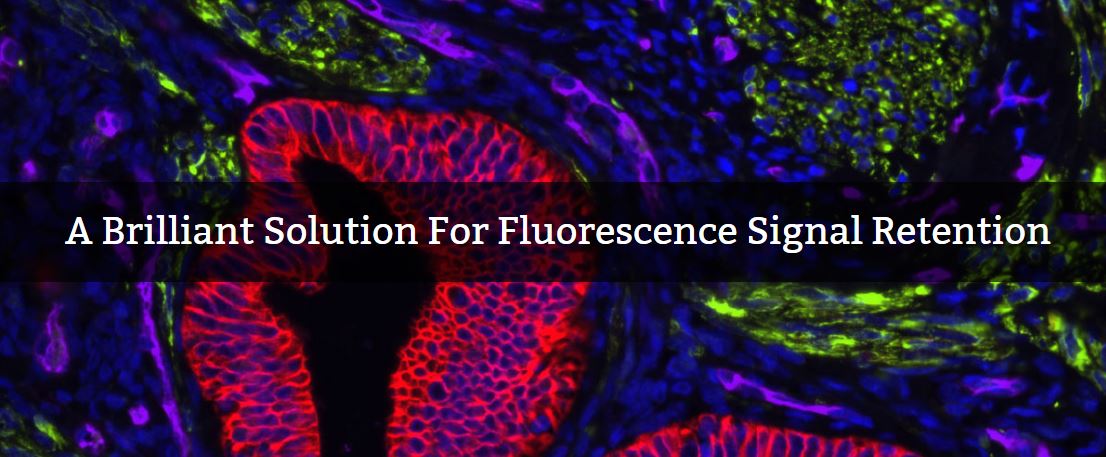 ---
Vector® TrueVIEW™ Autofluorescence Quenching Kit (VC-SP-8400)
Vector Laboratories introduces the TrueVIEW™ Autofluorescence Quenching Kit, offering the first effective technique for removing unwanted fluorescence in formalin-fixed paraffin embedded (FFPE) tissue samples, blood cells and structural elements such as collagen and elastin. Autofluorescence often impairs or prevents the use of immunofluorescence assays when the specific stained antigen cannot be distinguished from the interfering background signal. This is particularly problematic with tissue samples preserved using the FFPE method. TrueVIEW specifically targets background autofluorescence, and retains the intended specific fluorescent staining. TrueVIEW is effective across the spectral range from blue to far red and is compatible with commonly used fluorophores. This new quenching reagent enables researchers to identify specific markers that cannot be seen without removing the background noise of autofluorescence.
Applying TrueVIEW™ to sections is fast, requiring just five minutes for incubation. Ethanol steps and dilution are not required. The Vector TrueVIEW™ kit includes VECTASHIELD HardSet Antifade mounting media and contains enough reagent for between 100 and 150 tissue sections.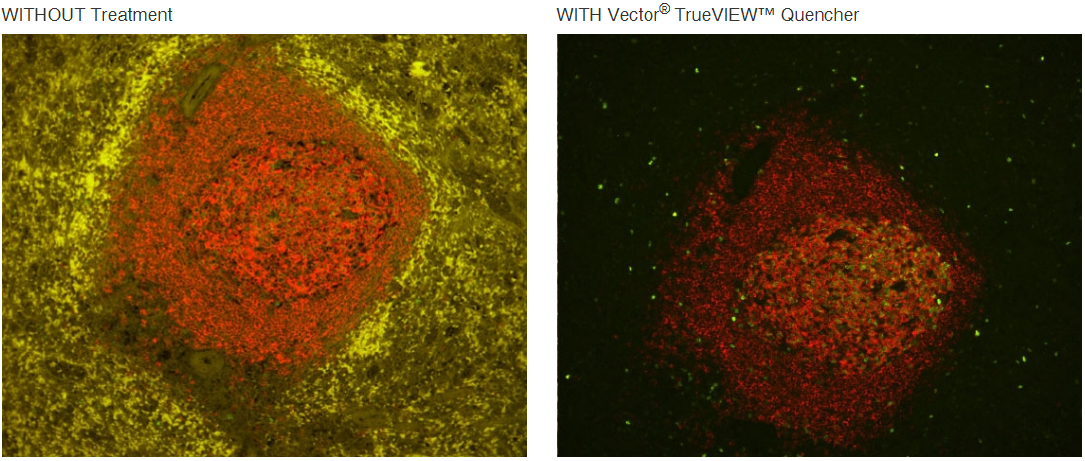 ---
Brochures/Tools Available
---
For a complete Overview visit the official website www.vectorlabs.com

Multiple Antigen Labeling Guide

A valuable resource for those considering localizing two or more antigens in the same tissue section. Protocols for chromogenic detection are accompanied by schematic illustrations of the procedures. A chart of all pair-wise combinations of substrates is included along with photographic examples. Practical tips regarding the order of substrates, blocking, and proper controls are also provided.




---

---

---

Lectins Application and Resource Guide

The Lectins Application and Resource Guide is a content-rich educational booklet that provides insight into how lectins are applied in biological sciences. With a focus on plant-derived lectins, the guide showcases the flexibility and utilization of lectins and lectin conjugates in established lab applications.

---

---

---

Immunofluorescence (IF) Guide

Selecting the appropriate reagents for your IF experiments is an important part of optimizing your protocol. This IF Resource Guide will help you navigate through the many choices of detection systems, substrates, and ancillary reagents that complete your workflow. Learn about the IF workflow and how to optimize each step, quickly identify and choose the most appropriate fluorescent secondary conjugates and select the best anti-fade medium to preserve your fluorescence signal for imaging and archiving.





---

---

---

Immunohistochemistry Guide

Selecting the appropriate reagents for your IHC assay is an important part of optimizing your protocol. This IHC Resource Guide will help you navigate through the many choices of detection systems, substrates, and ancillary reagents that complete your workflow.






---

---

---

Lectins & Glycobiology Brochure

This brochure contains a useful table of lectin properties summarizing biophysical information as well as sugar binding specificities and special applications for lectins available from Vector Laboratories. It also includes a complete product listing of all lectins, lectin conjugates and associated reagents.


---

---

---

Bioconjuagation Resource Guide

Bioconjugation provides a way to create biomolecule conjugates, with the linking of two molecules to form a single hybrid. The resulting product retains the activity of each component, yet also gains a novel function that is not possible with either molecule alone. This guide provides an overview of bioconjugation, applications and uses, as well as tools for successful bioconjugation.




Download
---